Documentation
General Settings
NOTE: In Office 365, you first create a profile inside Ultimate Forms and then choose that profile in the web part. The web part itself offers no settings beyond choosing the profile. Other than that, the settings are similar, excluding the caching portion that is not present in the app version.
Site - optionally specify the location of the site containing the template list. By default the current site is used.
Template list - specify the list used as a template for the rollup. The template list provides data on the columns and their types that the rollup will expect from all data source lists. All lists used in the rollup must contain at least the columns in the selected template list view and the column types must match.
Template list view– you must specify the template list view to be used when displaying the aggregated items. The list view defines the columns and column order and, optionally, adds additional filtering to the results.

Site URL for template list – enter server-relative or absolute URL for the site containing the template list. For the current site, leave blank.
Template list – select one of the lists in the site.
Template view – select of the views of the list

Filter by view – check to apply any filters present in the template view to the result set
Filters – optionally add additional filters to be applied to the result set. These filters can be used on their own or combined with view filters.
Grouping – you can group the results by site, list or do not group. Note (for M365 only): This has an added feature where if the view being used has a group by setting it will display that group by view as part of the rollup.
Collapse by default - when grouping is used, checking this option will show the groups collapsed.
Allow filtering – allow interactive filtering the result view from column headers (similarly to the built-in list views).
Page size – specify value greater than zero to enable paging. You are advised to use paging for performance reasons when dealing with large result sets.
Cache expiration – specify user-specific in-memory cache to improve performance. This setting is not used in the app version.
Row limit - limit the total amount of items that will be fetched from all sources.
Allow AJAX - will make operations inside the web part to be executed asynchronously. This setting is not used in the app version, it will always load data asynchronously.
Show performance-monitoring data - display loading times measurements of the web part. This setting is not used in the app version.
Sharepoint On Premise Edit Webpart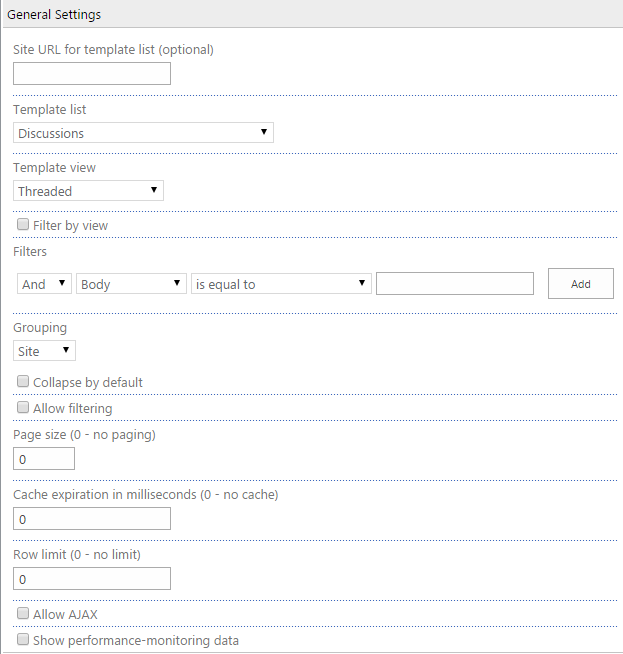 Office 365 Rollup Webpart profile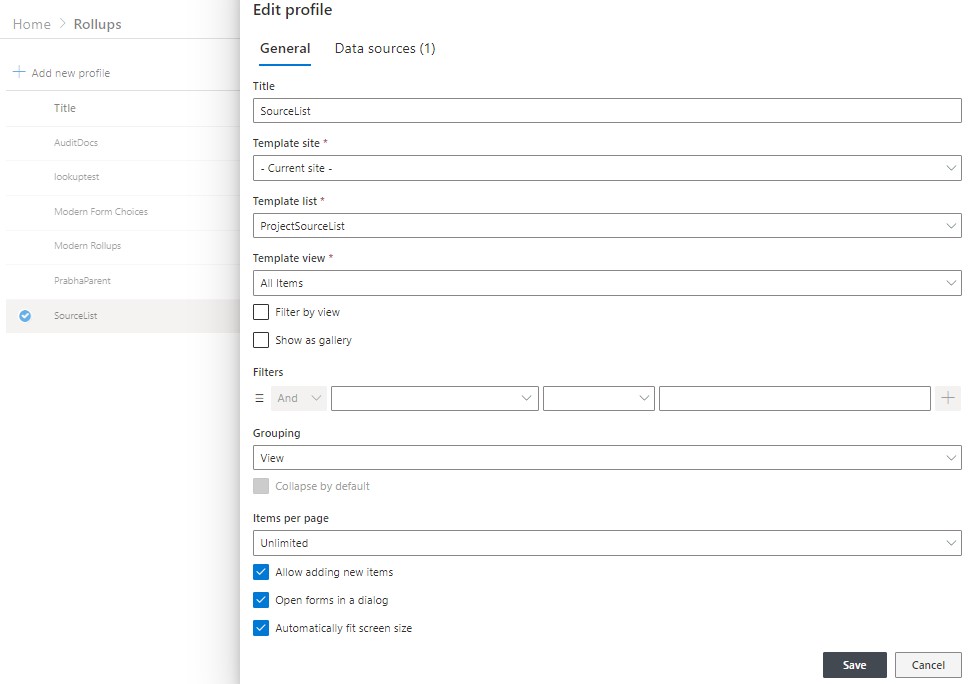 Last modified: 11/9/2022 2:55 PM
Add your comment
Comments are not designed to replace support calls. If you have a specific issue with one of our products, please send an email to
support@infowisesolutions.com
to open a support ticket.