Documentation
Using Wizard
You can install Ultimate Forms on Microsoft 365 using web-based installation wizard, without having to perform multiple manual steps.
NOTE: you still need to manually enable Custom script and grant permission to APIs. See the relevant documentation pages for details.
Quick guide
If you still haven't done so, create app catalog.
Go to this page. You must be a SharePoint (Global) administrator.
Enter site URL. Optionally choose to install on all subsites (up to 100, recursively).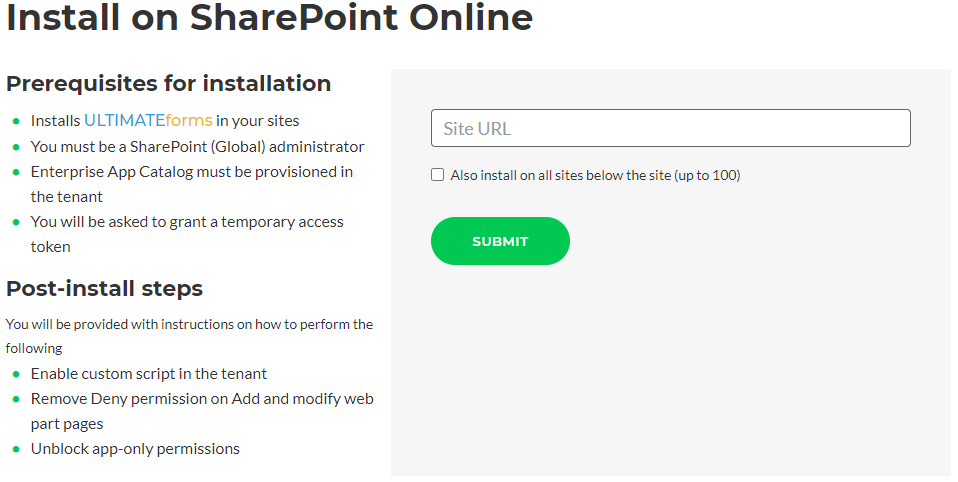 Click Submit
A pop-up window will open. Enter your Microsoft 365 credentials and grant the installer app access.
The process will now continue in the background and you will be able to view its steps in real time.
Post-install script
Once the process is complete, a PowerShell script will be displayed.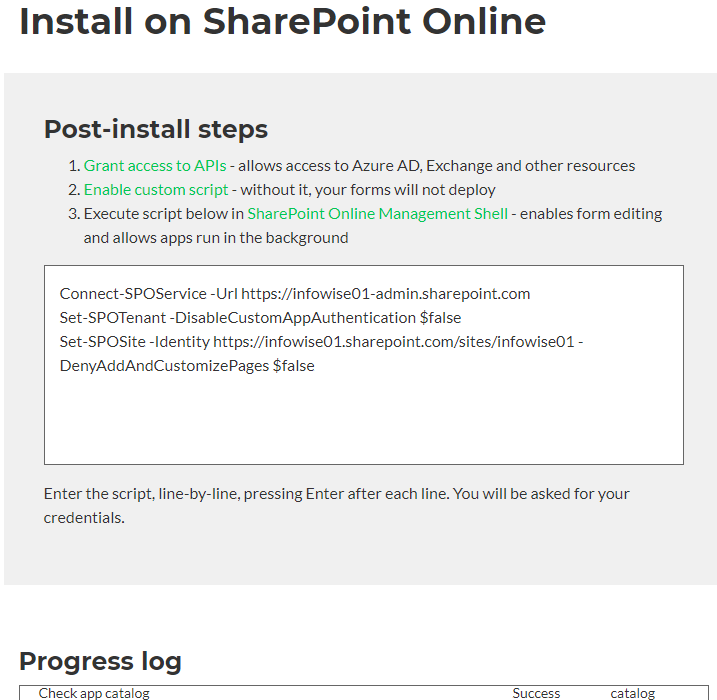 Use SharePoint Online Management Shell to execute the script by entering it line-by-line and pressing Enter after each line.
You will be asked for your credentials for access.
Prerequisites
You must be a Global Administrator as well
App Catalog must be created in your tenant. Follow these instructions.
Script steps
The following steps are automatically executed by the script:
Remove Deny permission on "Add and customize pages". This setting is automatically added by SharePoint to prevent changes to web part pages, causing the app to be unable to modify list forms.
Allow apps to access SharePoint using app-only permissions. These are used by backend components, such as Alerts to access data in SharePoint.
You still need to performed manual steps outlined below.
Also read these:
Last modified: 2/3/2021 10:15 PM
Add your comment
Comments are not designed to replace support calls. If you have a specific issue with one of our products, please send an email to
support@infowisesolutions.com
to open a support ticket.