Using SharePoint to Improve patient care coordination
Using SharePoint to Improve Patient Care Coordination
According to NCBI, the investment in the digital health sector jumped from $4.4 billion in 2016 to nearly $6 billion in 2017. The jump in funding was mainly because the users of healthcare systems started using innovative digital solutions like Google, Uber, Amazon, etc. Healthcare organizations operating on a limited budget can't afford such expenses, so they need a solution that is both effective and affordable. SharePoint and Office 365 is the answer to their problems; by incorporating SharePoint, healthcare organizations can streamline several of their business processes.
Microsoft Teams Role in Healthcare
Microsoft Teams is a standout feature of Office 365, which is gaining popularity among innovative healthcare providers. Healthcare providers can easily video conference with patients using MS Teams and eliminate the need for meeting the patient physically. To prevent unwanted data broadcasting, healthcare professionals can blur their backgrounds. Teams can further help healthcare organizations to enhance communication between employees and assure regulatory compliance. Healthcare professionals can securely share image annotation and chat with fellow team members to facilitate patient care. They can push urgent notifications and even video conference with fellow experts to make efficient and effective care decisions.
Patient Care Coordination with SharePoint
SharePoint and Office 365 are widely popular as a collaborative tool mainly because they enable organizations to increase collaboration both internally and externally. Healthcare organizations can use SharePoint to enhance care coordination between employees (intranet) and to collaborate with third-party associates (extranet) such as insurance companies, labs, etc.
Intranet
Healthcare professionals can use SharePoint based intranet to improve patient care, employee engagement, and to increase the efficiency of their medical staff. An intranet-based on SharePoint enables health care organizations to.
Accelerate Internal Processes
Healthcare organizations can automate workflows and streamline processes like employee tracking, vacations and status changes, budget approvals, asset management, and much more. Healthcare professionals can increase patient care and productivity via mobile access. For instance, a patient discharge request can be remotely taken care of by using the SharePoint mobile app. Healthcare professionals can track their day to day activities by creating a SharePoint to-do-list; they can even associate the tasks with patient's names, set up priority levels, and an estimated task completion time. Busy doctors and nurses can use forms and surveys to pre-order meals for a week.
Track Work Activities and Events
Healthcare professionals have a plethora of tasks to look after, such as training, surgeries, attendance, etc. Without a proper scheduling system, effectively managing these tasks may become overwhelming and decrease their productivity. Healthcare professionals can use SharePoint based calendars to schedule events, meetings, medical procedures, etc. Healthcare organizations can create an on-call scheduling calendar and enable employees to track schedule changes, replacement staff, and notify employees about shift change.
Track Announcements and News
Healthcare professionals can set up alerts and notifications in SharePoint, so they never miss a critical announcement such as hospital events, system outages, news, etc. SharePoint provides several options to convey alerts; it could be a push notification on the mobile phone or a banner on the intranet. Healthcare organizations can temporarily block employee access of the intranet until they read and acknowledge the message.
Manage Emergencies
Healthcare organizations can create a list of emergency color codes in SharePoint, along with quick links defining the course of action to handle those emergencies efficiently. Healthcare organizations can quickly reach an emergency response team or a care team by creating an emergency contact directory in SharePoint.
Support employee recognition
The turnover rate of the healthcare industry is growing, making employee retention a burning issue for several healthcare organizations. Healthcare organizations can use SharePoint to address this issue. Employee recognition nomination forms in SharePoint aids the employee recognition process. The recognition could be based on their length of service, extraordinary performance, or achievements. As a result, nominees will receive special badges that are visible to everyone on the intranet.
Extranet
Extranets streamlines care communication between healthcare professionals and their partners, eliminating the need for phone calls. A SharePoint based extranet provides a unified collaboration space for patient care interactions, making care communication more transparent and faster.
Single Source of Knowledge
A SharePoint based extranet creates a platform where external parties can gain knowledge about changes required in the medical supplies by the healthcare institution. The extranet enables suppliers to adapt to the changes quickly.
Exchange Information
Sometimes a patient might be receiving treatment in several healthcare institutions, and the lack of an effective collaborative platform could negatively affect patient care. A SharePoint site enables healthcare professionals to quickly and safely exchange protected health information, health records, or patient information with affiliated physicians. Different patient care teams can even set up a workflow to improve patient care.
Make Announcements
News and announcements are a part of the regular operations of a healthcare organization. Whether it is to notify about a policy change or create public awareness, healthcare organizations can use SharePoint based extranet to make these announcements.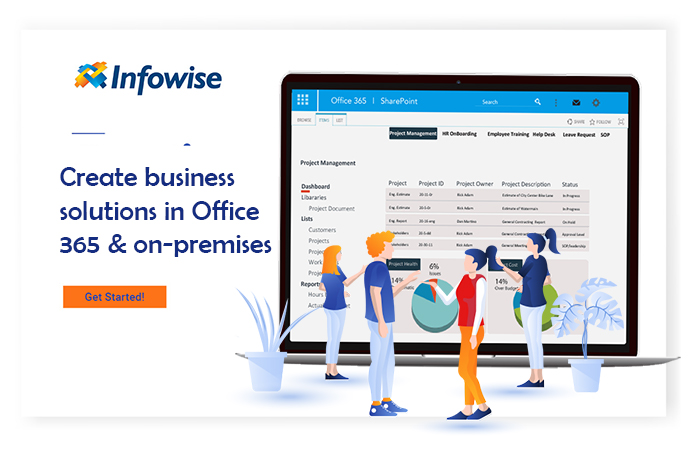 Infowise

At Infowise, we serve as a strategic partner, assisting public and private enterprises in their digital transformation endeavours with our scalable, smart, and robust tools, software, and applications. Our product Infowise UltimateForms Power Suite, contains more than 15 standalone SharePoint applications developed to give you the power to innovate, automate, and scale up your processes. Our products have been designed for optimum interoperability and seamless integration within SharePoint. Altogether, they constitute the structural foundation for digitization and facilitate your transition to digital transformation.
Click here to download Infowise ULTIMATEforms 30-days free trial. Simple process. After you've installed Infowise UF, go ahead and create an unlimited number of Business Process Applications. Or even better, do you want to start with a ready template? Great, click here and download the ready-to-use template from our vast business process solution library, re-purpose to service your needs
Add your comment
Comments are not designed to replace support calls. If you have a specific issue with one of our products, please send an email to
support@infowisesolutions.com
to open a support ticket.
Ultimate

Forms
Build powerful business applications in SharePoint using only your browser.

100% No-Code Solution
It's never been easier, to create, innovate and share, all you need is your web browser!

Cost-effective
Address business process pain points immediately. Save time and money.

Fantastic Support Team
Facing difficulties installing the application? Contact our fantastic support team.
Related Topics