The Case for Microsoft Teams in Healthcare
"I see Microsoft Teams right up there with the best - either as a screen sharing and audio/video conferencing tool or as a team collaboration tool. It's awesome."
Over 500,000 organizations including 91 of the Fortune 100 are using Office 365 and Teams to assist their employees in different capacities, according to Corporate Vice President of Modern Workplace Verticals Emma Williams. In this article, we'll explain what MS Teams is, how it is transforming the healthcare industry.
What is MS Teams?
Teams is a chat-based communication platform for businesses created by Microsoft as part of their Office 365 suite. Built to compete with platforms like Slack, Teams in its simplest form allows users to replace emails with group chat rooms or "channels." Employees can work together within a single window to enhance collaboration and teamwork.
Users can create several channels and can easily follow conversations due to conversation threading, new messages appending at the bottom, and update notifications. To facilitate one-on-one communication with other channel members, users can directly use video or voice chats with just one click.
But Teams is not just a chat hub; it's a platform well integrated with Office 365 online. The integration enables users to use other Microsoft's services like SharePoint, Delve, Word, Excel, Planner, PowerPoint, OneNote, Power BI within Teams. Every shared file automatically gets synched and stored in OneDrive or a local SharePoint which provides access to the latest version to every Team member. Thanks to co-authoring, Team members can work on a single file at the same time and see other users' changes in real-time.
Teams and Healthcare
In today's complex care environment, healthcare professionals and institutions strive to provide the best care possible. Microsoft Teams provides healthcare professionals with a secure platform for communication, patient care coordination, and improvement in operational efficiencies. The unified interface of Teams allows healthcare professionals to focus on patient care instead of navigating through several systems to find the required information.
Below are some features Microsoft Teams provide for the healthcare industry.
Secure Messaging
Teams allow healthcare professionals to send messages and capture and share photos within a chat. Because Teams meet security and compliance requirements, healthcare professionals can relay vital information instantly without worrying about safety and security.
Urgent Notifications
Healthcare professionals can mark their message as "urgent" in case of an emergency and let the recipient know that it requires urgent attention. The recipient will receive notifications every two minutes until they read the message.
Care Coordination
Teams have entirely transformed the way healthcare professionals communicate with patient updates. Line of business apps, connections of e-health records, and integration with Office apps enable healthcare professionals to share patient updates in real-time. They can also share, organize, coordinate, and prioritize care information in a single hub.
Meetings
Teams allow healthcare professionals to connect with each other even if they are working remotely. They can connect with anyone, anywhere with the help of audio and video conferencing/meeting features. Healthcare professionals can connect with staff, different departments, units, institutions, or even the entire healthcare network.
Streamline Workflows
Healthcare organizations can streamline their workflows and shifts by using Teams. They can create schedules for on-call care providers and share it, so everyone knows about shift changes. Organizations can make sure that everyone is updated on important information by sharing announcements across the organization.
Security and Compliance
Teams assist healthcare organizations with regulatory compliance because it built on the secure Microsoft Office 365. Teams are compliant with standards like GDPR, SOC 1, SOC 2, HITRUST, and HIPAA.
HIPAA Compliance and Teams
HIPAA is regulatory standards outlining lawful use and disclosure of protected health information (PHI). Department of Health and Human Services (HHS) regulates HIPAA, and it is enforced by the Office for Civil Rights (OCR). There are four main HIPAA rules.
HIPAA Privacy Rule: Patients' rights to PHI
HIPAA Security Rule: Secure maintenance, transmission, and handling of ePHI
HIPAA Breach Notification Rule: Guidelines for covered entities and businesses to follow in case of PHI or ePHI data breach
HIPAA Omnibus Rule: Mandates that business associates must be HIPAA compliant and outlines rules surrounding Business Associate Agreements (BAAs)
Microsoft Teams includes a range of features to keep PHI or ePHI secure. In its security compliance section, Microsoft states that MS Teams is Tire-D compliant, which includes HIPAA, ISO 27018, ISO 27001, SSAE16 SOC 1 and SOC 2, and EU Model Clauses (EUMC). Teams enforce organization and team-wide two-factor authentication, Active Directory single sign-on, in-transit, and at-rest data encryption, and Cloud Security Alliance compliance. Files and Notes are stored in SharePoint and OneNote and are backed by SharePoint encryption and OneNote encryption, respectively. Data Loss Policies or DLP policies identify, monitor, and automatically protect sensitive patient information in the entire Teams' environment. DLP prevents unintentional sharing of confidential patient information, such as social security numbers, health records, credit and debit card numbers, etc.
In simple words, Healthcare organizations and professionals can use Teams without worrying about inappropriate sharing of PHI or sensitive data existing on consumer chat apps because Teams is protected and compliant.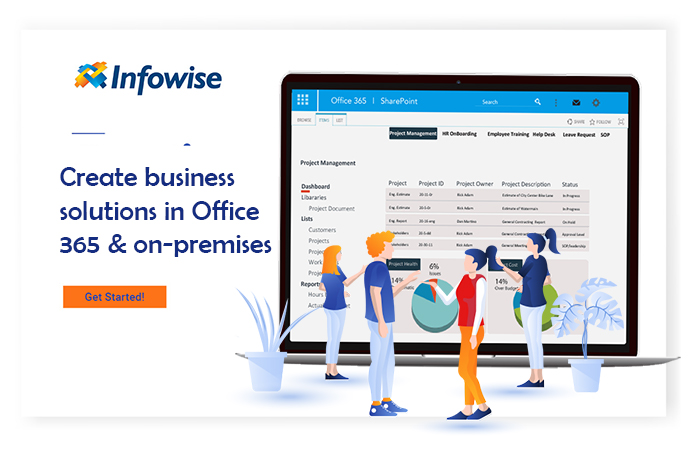 Infowise

At Infowise, we serve as a strategic partner, assisting public and private enterprises in their digital transformation endeavours with our scalable, smart, and robust tools, software, and applications. Our product Infowise UltimateForms Power Suite contains more than 15 standalone SharePoint applications developed to give you the power to innovate, automate, and scale up your processes. Our products have been designed for optimum interoperability and seamless integration within SharePoint. Altogether, they constitute the structural foundation for digitization and facilitate your transition to digital transformation.
Click here to download Infowise ULTIMATEforms 30-days free trial. Simple process. After you've installed Infowise UF, go ahead and create an unlimited number of Business Process Applications. Or even better, do you want to start with a ready template? Great, click here and download the ready-to-use template from our vast business process solution library, re-purpose to service your needs
Add your comment
Comments are not designed to replace support calls. If you have a specific issue with one of our products, please send an email to
support@infowisesolutions.com
to open a support ticket.
Ultimate

Forms
Build powerful business applications in SharePoint using only your browser.

100% No-Code Solution
It's never been easier, to create, innovate and share, all you need is your web browser!

Cost-effective
Address business process pain points immediately. Save time and money.

Fantastic Support Team
Facing difficulties installing the application? Contact our fantastic support team.
Related Topics