Successful examples of business process automation
Even though many despise the idea of the latest business processes taking the place of workers, however, these innovative business processes bring more productivity and efficiency in an organization. Keeping that in mind, there are three successful examples of business process automation that boost up the productivity of an organization. In all of these below examples, we will analyze the case studies of their business process automation that were successfully spearheaded. We hope that this article to provide you with the utmost guidance to execute the business automation process in your organization efficiently.
Three Successful Examples of Business Process Automation.
1. No More Paperwork
A transportation business that was working with a field service management company, they are looking to increase their drivers from a mere 50 to 150 with no additional hiring of in-house staff. What exactly they needed is an efficient way that would boost up their overall proficiency.
However, the biggest stumbling block in achieving that goal was the business processes of the in-house staff, which were performed manually. The drivers had to receive all the client's information, such as payment details and used to keep track of their working hours manually. Furthermore, the collected information is either called or faxed back to the head office to have them entered manually into their accounting books, and further dealt from there.
As you can imagine, the entire business process was utterly time-consuming and prone to mistakes. For instance, there were frequent errors due to overhearing on the phone, mainly due to a lousy landline connection. That was such a painstaking hassle for the organization to overcome.
However, with the implementation of business process automation, the workflow had significantly been improved. The field service company came up with innovative custom software and assigned every driver a tablet with a pre-installed app.
The app brings tremendously increase productivity by allowing the features of the ease of collection of clients' information, as well as automatically tracked the working hours of the drivers.
The collected information from the drivers was automatically delivered to the accounting department, which was synchronized with their QuickBooks system.
Thus, making this one of the successful examples of business process automation as the company reached and exceeded its organizational goal. It also provides new insights to the company of the data from a driver's end that opens the door for further streamlining the business process.
2. Mitigating Human Errors
Mitigating human errors is always the goal of almost every organization in the world. That can be easily achieved by implementing the business process automation.
In this example, a business enterprise builds a complicated and extensive information system that includes medical, aviation, and military. They had collaborated with a firm to develop that provide the convenience of changing requests to the Medical Directory for Regulatory Activities (MedDRA).
The previous business process was outdated, as well as highly complex, where the data used to go through several different systems manually in a muddled and inefficient manner. Generally, there weren't any issues in the process; however, in one specific process, any sign of errors or mistakes could lead to disastrous consequences of non-compliance.
By streamlining the entire business process via the installation and implementation of a single end-to-end system, the company retrieved the process approvals beforehand. As a result, it makes the company to easily keep track and prevent errors when the data wasn't moved between systems adequately. This also makes it one of the successful examples of business process automation.
It may be true that not everyone has the expertise of quality assurance and compliance. Nevertheless, there are some significant technical issues similar to this example that most organizations don't pay heed to and sometimes suffer huge losses. Those processes include
Trusting on transferring information from one system to another (via emails).
Delay the process due to bottleneck in the system.
Need various manual steps that could easily be ignored or neglected during rush hours.
These kinds of outdated and inefficient business processes still exist in various significant corporations.
3. Workflow Management
Finally, the last but not the least of the three successful examples of business process automation is about a convenience food company that was having issues with their regional marketing teams to run a local promotional campaign to capitalize on their local circumstances.
For instance, they were looking for running a promotional campaign for ice-cold drinks in Florida in February but not the same promotion in Vermont in the same month.
Moreover, there is also a central marketing department that would give the go-ahead for each of these promotional campaigns. They also ensured that the promotional offered in Florida doesn't have any confliction with the one in Vermont. The department oversaw that all the running promotional campaigns were up to the mark of the brand.
Meanwhile, the convenience food company were running their business processes with a hodgepodge way of emailing and highly complex Excel spreadsheets to keep track of all the promotional campaigns of all the regional marketing teams. They were suffering from the slow approval from the central marketing department that was becoming a burden to the entire team.
Then came one of the successful examples of business process automation by switching and allowing the approvals on the task assigned. In other words, the stakeholders were only allowed to view and give consent to the tasks which they were assigned.
From there on, it started to build a system where it enabled different regions to share their idea for a promotional campaign. Its progression was approved by the assigned stakeholder efficiently within the same network. Furthermore, the system also sends a notification instructing the marketing team if there were any essential things to do.
By adopting this business process, the client gained massive productivity and proficiency in the promotional campaign.
Conclusion
These are the three successful examples of business process automation that contributed immensely to their respective business enterprises. It matters not whether you're looking to increase your on-the-field employees, reduces errors, or just want to get work done fast. The implementation of business process automation is imperative in the modern times of today.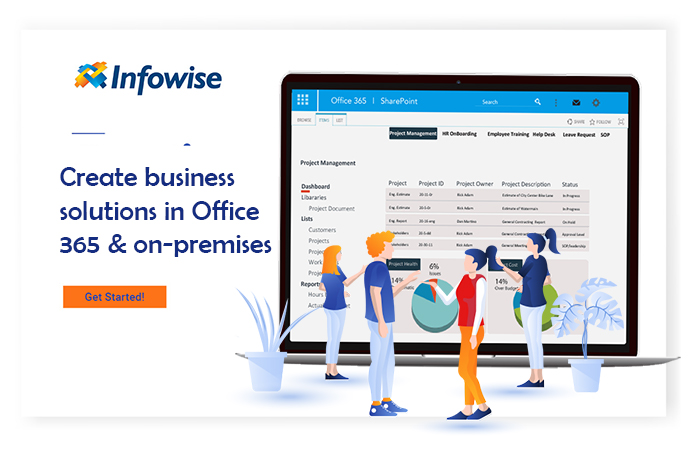 Infowise

At Infowise, we serve as a strategic partner, assisting public and private enterprises in their digital transformation endeavours with our scalable, smart, and robust tools, software, and applications. Our flagship product Infowise UltimateForms Power Suite contains more than 15 standalone SharePoint applications developed to give you the power to innovate, automate, and scale up your processes. Our products have been designed for optimum interoperability and seamless integration within SharePoint. Altogether, they constitute the structural foundation for digitization and facilitate your transition to digital transformation.
Click here to download Infowise ULTIMATEforms 30-days free trial. Simple process. After you've installed Infowise UF, go ahead and create an unlimited number of Business Process Applications. Or even better, do you want to start with a ready template? Great, click here and download the ready-to-use template from our vast business process solution library, re-purpose to service your needs.
Add your comment
Comments are not designed to replace support calls. If you have a specific issue with one of our products, please send an email to
support@infowisesolutions.com
to open a support ticket.
Ultimate

Forms
Build powerful business applications in SharePoint using only your browser.

100% No-Code Solution
It's never been easier, to create, innovate and share, all you need is your web browser!

Cost-effective
Address business process pain points immediately. Save time and money.

Fantastic Support Team
Facing difficulties installing the application? Contact our fantastic support team.
Related Topics