SharePoint is an Excellent Tool for HR Management
HR team plays a crucial role in every business, whether small or large. Sometimes the work-load can be overwhelming, and manual processing can lead to errors. For efficient hr management, many companies now prefer human resource management systems. These hr applications are mostly built on platforms such as Microsoft SharePoint can dramatically improve the HR processes and increase productivity, fast-track growth, and enhance the performance of your company.
What is SharePoint
Microsoft SharePoint is an automated platform that allows companies to manage multiple aspects of their processes. It offers a plethora of functionality to businesses as a collaboration site, automated workflow engine, data storage tool, video conferencing software, and many others. Companies can customize their SharePoint platform according to their needs. They may choose from an extensive software library which includes, Word, Excel, PowerPoint, Outlook, Publisher, Access, Exchange, OneDrive, Skype, Microsoft Teams, Yammer, and Delve. Microsoft's Partner Companies, such as Infowise, provides automated portals that companies can integrate into their SharePoint and take their platform's capabilities to the next level. Three versions of Microsoft SharePoint are available in the market.
SharePoint On-Premise:

Managed internally by your IT team.

SharePoint Online:

Managed by Microsoft.

SharePoint Hybrid:

Mixture of on-premise and online SharePoint.

SharePoint for HR Management
SharePoint is a versatile platform that any department can use and customize according to their particular needs. SharePoint human resources management system is used to simplify employee onboarding process, securely store personal information, update employees about policy changes, manage leave and attendance, conveniently manage the recruitment process, etc.
Companies can integrate Infowise custom build HR portals to enhance their SharePoint functionality. These HR portals can help the HR team in many areas, such as.

Employee Onboarding and Recruiting

SharePoint HR portals allow the HR team to conveniently power through a vast number of employee applications. Instead of reviewing hundreds of resumes in black and white, the HR manager can find the desired resume by performing a search in the database. HR management can keep track of completed tasks by reviewing the centrally integrated checklists. For example, multiple HR officers had to interview various IT specialists and select one; they can view if the job got completed by checking the checklist. Real-time dashboards allow the HR team and new hires to monitor onboarding progress.
SharePoint human resources management system can be used to generate reports and gather interview statistics of the candidates. It can also create automated emails for interview invitations, notify candidates about rejection, welcome, and farewell emails, and create reminders and notifications.
SharePoint users can create an extensive knowledge base and include all necessary information for the new hires such as company mission and guide, employee handbook, work responsibilities, benefits, and e-forms, etc.
Employee Management and Evaluation

HR staff can manage employee-related operations and contents by using SharePoint HR portals. Document management becomes easy for the HR team, as they can track changes and view the history of the employee documents, contract, or updated job description. Data encryption allows companies to protect employees' sensitive information, control access, dictate document downloading, etc. SharePoint can also generate alerts about unauthorized access to employees' information.
HR management can conveniently communicate with the employees through their profiles. They can also track and approve salary changes, monitor the attendance and working hours, keep track of leaves and absents, schedule shifts, enrolment for courses, etc.
HR portals also allow the HR team to evaluate employee performance conveniently; they can report on task completion, review performance, and training results. They can also conduct a test to assess employees' knowledge and skills after training and provide their feedback to the employees. Conduct surveys and analysis to measure employee satisfaction and self-assessment questionnaires.
HR management can handle employees' requests using HR portals. They can approve and track vacation applications, track bonuses, and benefits, change in employment status, the progress of training and development, etc.

Keep Track of Policies and Procedures

HR staff has to make sure that the company policy complies with the state, local, and federal labor laws. They also have to make sure that the employees are meeting the company policy. HR management can associate regulations with centrally stored policies and procedures. The status of the policy, active and expired certifications, etc. can be monitored through the dashboard. Employees can easily acknowledge compliance with training, policy, or regulations.
The HR team can schedule notifications to review and update policies or certifications that are about to expire. Audio, Video, and Graphics training materials integrated into the SharePoint HR portal allow HR management to conduct knowledge tests and arrange policy compliance training.

Conclusion
Automated and smart solutions have become a must-have in today's competitive business environment. SharePoint and its HR portals can drastically improve the operations of your HR team and empower them to bring the best to your business.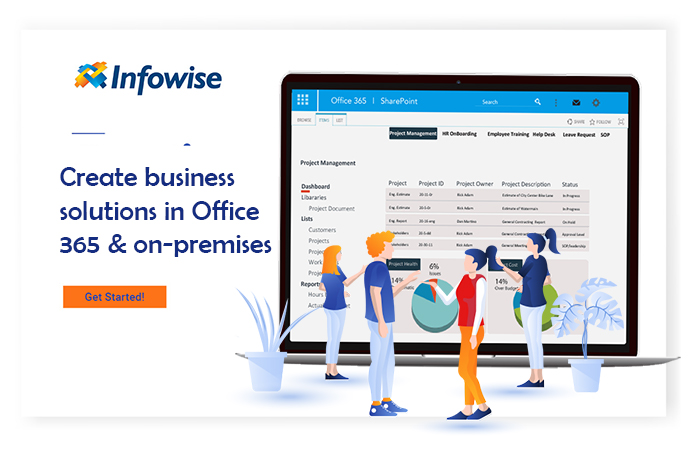 Infowise

At Infowise, we serve as a strategic partner, assisting public and private enterprises in their digital transformation endeavours with our scalable, smart, and robust tools, software, and applications. Our product Infowise UltimateForms Power Suite contains more than 15 standalone SharePoint applications developed to give you the power to innovate, automate, and scale up your processes. Our products have been designed for optimum interoperability and seamless integration within SharePoint. Altogether, they constitute the structural foundation for digitization and facilitate your transition to digital transformation.
Click here to download Infowise ULTIMATEforms 30-days free trial. Simple process. After you've installed Infowise UF, go ahead and create an unlimited number of Business Process Applications. Or even better, do you want to start with a ready template? Great, click here and download the ready-to-use template from our vast business process solution library, re-purpose to service your needs.
Add your comment
Comments are not designed to replace support calls. If you have a specific issue with one of our products, please send an email to
support@infowisesolutions.com
to open a support ticket.
Build powerful business applications in SharePoint using only your browser.
100% No-Code Solution
It's never been easier, to create, innovate and share, all you need is your web browser!
Cost-effective
Address business process pain points immediately. Save time and money.
Fantastic Support Team
Facing difficulties installing the application? Contact our fantastic support team.
Related Topics