Revamped Teams for the healthcare industry
Ignite 2019: 11 New Features of Teams for the Healthcare Industry
Microsoft announced new exciting features for MS Teams at the Ignite 2019 conference. A detailed analysis of the features shows that it has got a lot to offer to the healthcare industry. These features provide a single hub where care teams can communicate and collaborate through chat and video, and easily access patient care information such as health records. To further benefit the healthcare industry, Microsoft enabled Teams app integration with healthcare apps and line of business apps. MS Teams aims to improve patient data hand-offs and cost management and reduce readmission rates through these newly added features. In this article, we'll review the new features, their benefits and compliance.
Ignite 2019: Microsoft Teams user tutorial and updates
Features
Virtual Consult
Virtual Consults provides a simplified way to schedule and conduct B2C virtual consults for the healthcare industry. Patients can easily join the virtual consult using their web browser without having a Teams account.
Patient Coordination
Healthcare professionals can digitize care information and streamline patient care using the new Teams. They can enter patient information into Teams and provide a central hub for care team members to communicate, collaborate, and improve care coordination.
Private Channels
In the new Teams app, healthcare professionals can create private channels within existing teams. They can also customize the privacy of their private channels and make it visible for only selected Team members or everyone.
Multi-Window
Healthcare professionals can now pop out separate windows for meetings, chat, documents, and even calls. This feature allows care providers to improve their productivity and streamline their workflow.
Pin Channels
For easier access to important channels, healthcare professionals will now be able to pin important channels at the top of their Teams list.
Message extensions
Healthcare professionals can now include Polls and Surveys in their Teams chat or channel conversation. This feature will allow them to get instant feedback on shared items or questions and enhance patient care coordination.
Advance Integration
· Outlook
Microsoft Teams makes it easier for healthcare professionals to collaborate due to its advanced integration. Healthcare professionals can opt to bring email conversations, including attachments from Outlook into a Teams channel or chat and vice versa.
The new Microsoft Teams provides actionable missed activity emails to healthcare professionals so they can keep track of missed conversations. The email will include the latest replies from the conversation, to which care providers can directly respond to from their Outlook.
· Planning apps and forums
Teams will now be able to consolidate tasks from Team channels, Outlook, Planner, and MS To Do, allowing healthcare workers to get a unified view of their personal and assigned tasks within the Teams app.
· Yammer
The professionals can now use Yammer conversations, live events, and communities into their MS Teams. For easier access to Yammer, IT admin and end-users can pin it on Teams' left navigation rail.
Whiteboard
Microsoft Whiteboards are an additional option to be used during Teams Meetings. Accessible through the share tray, this feature provides an infinite digital canvas to collaborate and enhance their meeting experience.
Care teams can even share their analog whiteboards within Teams. A dedicated AI-powered camera will automatically focus on the whiteboard in the room, make the ink more legible, and even transparentize anyone standing in front of the whiteboard.
Live Captions
Live captions will revolutionize Team Meetings by providing healthcare professionals with another way to follow the conversation. This feature will convert speech into text in real-time to support users with different language proficiencies and hearing abilities.
Background Customization
Healthcare professionals will be able to customize their background during a video meeting and hide any sensitive patient data behind them.
First-line Workers Access
· SMS sign-in
The new Teams app will provide a low friction way for first-line workers to sign in to Teams. They can sign in through their phone number using a one-time 6-digit SMS passcode for authentication.
· Off-shift access
This feature will send a notification to first-line workers when they access their Teams account outside work hours. The IT admins can turn on this feature, after which the user will have to provide consent to the notification before accessing the app.
· Global sign-out
This feature will allow healthcare professionals to sign-out from all devices at once and help them save time and keep their accounts secure after accessing a shared device.
Benefits
The new Teams features announced during Microsoft Ignite 2019 provide the following benefits for the healthcare industry.
Productivity
Healthcare professionals can increase their productivity by using MS Teams as it provides a single platform for all their needs. They won't have to switch between several apps to communicate, coordinate, and find the information that they require because Teams integrate with Office 365 apps and line of business apps.
Multi-Tasking
Thanks to the new multi-window feature of MS Teams, healthcare professionals will be able to work efficiently and handle multiple tasks at once.
Security
State-of-the-art security systems back MS Teams; the new access control features take the security of the platform to the next level and provide a safe platform for your care team to collaborate, communicate, and increase patient care.
Collaboration
The new features of Teams such as MS Whiteboard integration and live captions during meetings will allow healthcare providers to collaborate even more efficiently than before.
Teams and HIPAA Compliance
Microsoft Teams is already being used by renowned healthcare organizations such as St. Luke's; they even demo the new Teams during Microsoft Ignite 2019.
Short Version:
Are the newly added features of MS Teams HIPPA-compliant?
YES!
Long Version:
Compliance is one of the primary reasons healthcare organizations hesitate to deploy smart solutions for their business processes. MS Teams is part of the Office 365 suite, which follows regulatory compliance, including HIPAA. Microsoft Teams belong to the Tier-D category of security and compliance; security controls are enabled by default, and it meets standard demanded by HIPAA, SOC 1, SOC 2, SSAE 16, ISO 27018, ISO 27001, and EUMC. Tier D services and application have also passed the HITRUST CSF Assurance Program Assessment.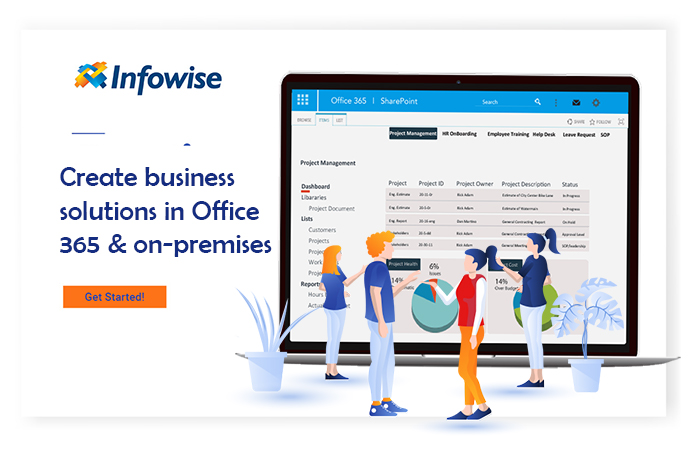 Infowise

At Infowise, we serve as a strategic partner, assisting public and private enterprises in their digital transformation endeavours with our scalable, smart, and robust tools, software, and applications. Our product Infowise UltimateForms Power Suite contains more than 15 standalone SharePoint applications developed to give you the power to innovate, automate, and scale up your processes. Our products have been designed for optimum interoperability and seamless integration within SharePoint. Altogether, they constitute the structural foundation for digitization and facilitate your transition to digital transformation.
Click here to download Infowise ULTIMATEforms 30-days free trial. Simple process. After you've installed Infowise UF, go ahead and create an unlimited number of Business Process Applications. Or even better, do you want to start with a ready template? Great, click here and download the ready-to-use template from our vast business process solution library, re-purpose to service your needs
Add your comment
Comments are not designed to replace support calls. If you have a specific issue with one of our products, please send an email to
support@infowisesolutions.com
to open a support ticket.
Ultimate

Forms
Build powerful business applications in SharePoint using only your browser.

100% No-Code Solution
It's never been easier, to create, innovate and share, all you need is your web browser!

Cost-effective
Address business process pain points immediately. Save time and money.

Fantastic Support Team
Facing difficulties installing the application? Contact our fantastic support team.
Related Topics