Office 365 for Hospitals - Improving The Healthcare Sector
Microsoft Office 365 is a suite of cloud-based collaboration and interactive tools that incorporate all of Microsoft's existing online apps (Word, Excel, PowerPoint, OneNote, Outlook, Publisher, Sway, and Access) into a cloud service. Office 365 is an automated software or integrated experience that can help hospitals improve patient care and reduce operational costs by enhancing collaboration and communication between doctors, nurses, staff, and independent specialties, health teams, and health care professionals in healthcare organizations. It is designed to help you achieve your passion for providing quality care and expand your hospital's health insurance portability and accountability. Built on Microsoft 365's stable, compatible platform, Teams provide all healthcare workers with a common way to communicate in real-time, organize patient care, and maximize operational efficiency.


"To all users of technology who are willing to take a chance, make a choice, and try a new way of doing things so that we can nurture and enjoy a happy, healthy planet."— Katherine Murray, Microsoft Office 365


The lates

t and updated approach

for the healthcare system

is the

Office365 for hospitals.
The intricate ways healthcare services has been conducted for many years has changed now. Microsoft technology navigated the administrating and accounting functions of the healthcare system to a new era of development and improvement. Medical care has evolved into team-based care, incredibly large medical specializations, electronic patient data storage, and regulations for patient's privacy. Healthcare organizations and centers are working by securely collaborating with Office 365 for better communication, security, and patient care.
Microsoft 365 has signed a complaint standard for the safety and security of patient records or health information, which shows that office 365 for hospitals is proven to be a useful tool.


The healthcare professionals, including doctors, surgeons, or nurses, have several concerns in their professional life. Their prime concern is to be updated with day to day new information related to the drug, modified techniques, and tactics of any surgery or any new research related to the human body. This daily need for being updated can easily be achieved through office 365 with its unique features and technology. The healthcare staff deals daily with new researches, experimentation, and testing. The office365 has easy access to daily workshops, internships, or assignments scheduled for discoveries. The stress of having updated information can quickly be solved with security and compliance served through office365.
The patient's accurate information and health history must be documented correctly is the patient's prime concern. The reliability of the patient's health information is the most crucial factor that medical health organizations care about. Microsoft teams succeeded in implementing a care market instead of the cure market, where the caretakers and healthcare providers are successfully being engaged in healthcare services provision aided by new technology. The current improvements have to to with proper services delivery. An example will be updates related to patient's medicine information shared with all care provider teams.


A healthy relationship between health care providers and patients can be maintained through persuasive communication. Office 365 enables healthcare providers or professionals to securely communicate or collaborate in real-time with patients or colleagues wherever they want. It also provides easy asses to schedule and links for both providers and patients for booking virtual appointments. Built on the secure, compliant Microsoft 365 cloud, the team gives all healthcare workers a familiar way to communicate in real-time, coordinate patient care, and improve operational efficiencies.
The improvements or productivity that office 365 provides to healthcare organizations include advanced level coordination, enhanced collaboration, and an agile healthcare team. A fully equipped and informed team is what a healthcare organization needed for a better and healthy future.
Healthcare organizations work more productive through a Microsoft technology created by the Microsoft Excel team. The efficacy and productivity of the overburden team decline with time. The Microsoft office enables the team to work efficiently in peak hours of a rush as well as in every emergency. The daily need for data entry, including the record of the patient's current status. Staff needs to collaborate with clients, patients, and their families to keep up the increasing demands and keep quality of service.


It enables users to collaborates or communicate or handling data or details in the strive of seeking quality or maintaining the quality indeed. The caretakers can have quicker information about any health alert, protocol, or in emergency circumstances or for better regulations. They will have easy access to information anywhere anytime. Caretakers, either in elderly care or home care, can have far quicker access to information.
Many patients choose hospitals based on the behaviour and reputation of staff and healthcare provides. A kind and friendly staff are more functional and skillful in public dealing. The overfull patients in healthcare wards or emergency departments are one of the many problems that nursing staff need to face; a systemized way is Microsoft office that enables the team to work with fewer errors.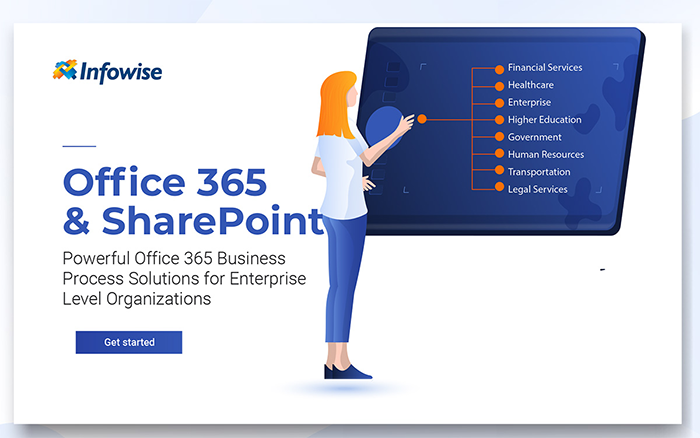 At Infowise, we are serving as a strategic partner, assisting public and private enterprises in their digital transformation endeavours with our scalable, smart and robust tools, software and applications. Our product Infowise UltimateForms Power Suite contains more than 15 standalone SharePoint applications developed to give you the power to innovate, automate and scale up your processes. Our products have been designed for optimum interoperability and seamless integration within SharePoint. Altogether, they constitute the structural foundation for digitization and facilitate your transition to digital transformation.
Click here to download Infowise ULTIMATEforms 30-days free trial. Simple process. After you've installed Infowise UF, go ahead and create an unlimited number of Business Process Applications. Or even better, do you want to start with a ready template? Great, click here and download the ready-to-use template from our vast business process solution library, re-purpose to service your needs.
Add your comment
Comments are not designed to replace support calls. If you have a specific issue with one of our products, please send an email to
support@infowisesolutions.com
to open a support ticket.
Ultimate

Forms
Build powerful business applications in SharePoint using only your browser.

100% No-Code Solution
It's never been easier, to create, innovate and share, all you need is your web browser!

Cost-effective
Address business process pain points immediately. Save time and money.

Fantastic Support Team
Facing difficulties installing the application? Contact our fantastic support team.
Related Topics