Healthcare Project Management and Workflow Automation with SharePoint
"We use SharePoint to share documents on our corporate homepage. It houses all of our corporate documents or documents by the department. It is an easy place to share and edit heavily used documents across our large organization. It integrates with Microsoft Office, which has been a great feature; each department has their own SharePoint site where you can limit and edit access to these points, and you can easily share and review documents."
– SharePoint review by Alex R., Hospital, and Healthcare.
Healthcare projects are increasingly focusing on implementing innovative technologies such as Office 365 and SharePoint to bring cost-effective improvement in inpatient care. Common healthcare projects include paperless electronic healthcare records, cloud computing, AI, and big data. Healthcare teams work within strict data and security protocols while following compliance, which requires a comprehensive risk management approach. Healthcare programs have to be delivered in challenging, heavily regulated, multi-stakeholder environments with finite resources.
The healthcare industry experiences several obstacles and challenges, with effects on project teams, managers, and patients.
Such challenges may include:
A continuous flow of new patients
Health staff scarcity.
Manual, time-consuming paper-based processes.
Outdated systems causing inefficiencies.
Insufficient access to medical records.
Communication gaps.
Inefficient collaboration between care teams, external stakeholders, and trustees.
SharePoint for Healthcare
By using SharePoint, the healthcare industry can streamline and automate inefficient processes in a cost-effective manner and improve patient care. The Healthcare industry can unlock the following benefits by using SharePoint.
Increased and Efficient Collaboration
Automated Workflows
Document Management
Permission Management
Security and Privacy
Increased and Efficient Collaboration
Create an intranet for your employees in SharePoint; they can access the intranet from any device to collaborate and work together. You can also create portals for patients so they can connect with their doctors and gain easy access to their information, i.e., medical records, test results, and more.
The Healthcare industry can use SharePoint to unlock a collaborative approach for patient care. Care team members can share medical records with other doctors and consultants in a secure environment. It allows them to implement a patient-centred and value-based healthcare system with the ability to resolve challenges and limitations faced by the industry. Project administrators can create and customize dashboards for stakeholders according to their needs, providing them enhanced user experience.
Automated Workflows
There are several manuals and time-consuming processes in the healthcare industry, such as registration, documentation, filing, processing, and storing records. These inefficient processes consume a considerable amount of time of the care team members, which they can use to provide patient care.
SharePoint tackles this problem effectively via built-in templates and clause libraries, which the care team members can use to create everyday documents, including contracts, admission forms, consent forms, and much more. With SharePoint care, team members can streamline processes, ensure regulatory compliance, and increase collaboration. You can track processes from anywhere you want, at any time, using any device. By automating workflow using SharePoint, you can enhance communication between team members and improve process efficiency.
Hence, SharePoint as a healthcare solution enables you to save time spent doing manual and repetitive processes that you can use to provide patient care.
Document Management
A critical problem healthcare organizations are facing today is managing confidential and traceable healthcare records. SharePoint as a document management system allows the healthcare industry to create and maintain a centralized repository for storing different healthcare documents with fast and easy access. The healthcare documents can be of any kind, health records, prescriptions, doctors' notes, test results, etc.
SharePoint's search feature allows team members to use keywords or full-text to search for the required content across integrated systems. Administrators can control the access and define the role of the team members for document access and editing within the company according to their position. Team members can improve patient care by sharing medical records and information with consulting doctors and other care members in a secure environment.
Permission Management
You can create a safe and secure environment in SharePoint by restricting or limiting user access, defining roles for downloading or editing of essential documents. SharePoint security management's user permissions function allows you to define roles and ensure your documents are managed safely. Privacy and security issues could drain your time, energy, and resources, but you can reduce your burden by choosing SharePoint as a healthcare solution. The best thing about SharePoint is that it is compliant with health industry regulations, including HIPAA, making it the perfect option for health care project management.
Security and Privacy
Microsoft has developed SharePoint and Office 365 to follow compliance by taking into account the pressing needs of security and privacy required by multiple industries, especially healthcare. Healthcare organizations can rely on SharePoint because the healthcare information stored within the system is secured and protected. Advanced Security Management, a smart feature of SharePoint, identifies sensitive information when uploading data, and sends notifications to end-users so they can block or allow the process. Hence, healthcare providers can conveniently ensure the quality and confidentiality of electronically protected health information (ePHI) in SharePoint.
With SharePoint, healthcare providers can set up retention policies for records and ensure that the healthcare records are destroyed after six years, as required by HIPAA regulations.
Conclusion
SharePoint can be implemented in any department of any industry, from finance to HR; it can help bring efficiency to the business process through automation. You can use it as an employee management system, a document management system, a project management system, or any other way you want, rest assured that it's going to fulfill the unique requirements of your business process. If it lacks behind in some way, you can integrate SharePoint portals and increase the capabilities of SharePoint. The healthcare industry can benefit from SharePoint and Office 365, as they easily automate their processes and assure regulatory compliance without breaking their banks.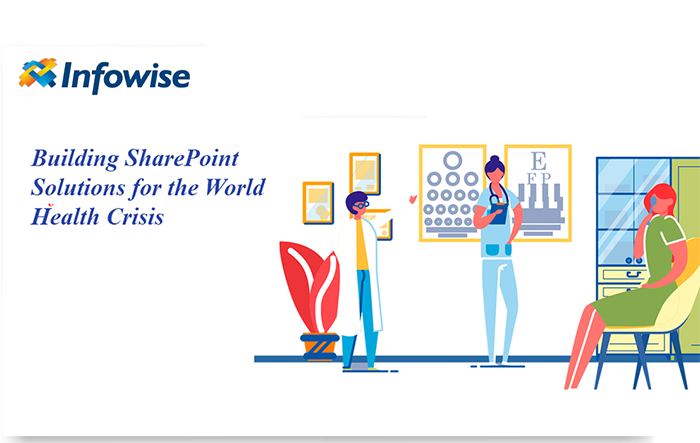 Research institutes, University medical systems, and single physician practices are leveraging the power of ULTIMATEforms and the collaborative reach of the SharePoint platform to enhance productivity and maximize efficiency every day of the business calendars. Start a free trial today and contact us if you require further support or training.


Add your comment
Comments are not designed to replace support calls. If you have a specific issue with one of our products, please send an email to
support@infowisesolutions.com
to open a support ticket.
Ultimate

Forms
Build powerful business applications in SharePoint using only your browser.

100% No-Code Solution
It's never been easier, to create, innovate and share, all you need is your web browser!

Cost-effective
Address business process pain points immediately. Save time and money.

Fantastic Support Team
Facing difficulties installing the application? Contact our fantastic support team.
Related Topics