New icons in Color Choice and Indicator columns
Hi,
Great news! 200 new icons have been added to Color Choice and Indicator columns. You can now use these icons in views and form in any list or document library, in both on-premises and app version (Ultimate Forms).
The redesigned picker now groups icons in tabs, for easier navigation.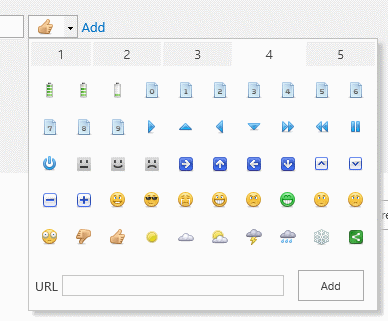 The original icon set is still there, proudly occupying tab #1. And as always, you can specify your own icon by providing a URL.
The icon can be used by both the Color Choice and Indicator columns. In Color Choice, you can assign a different icon to each value of a choice column.
The icons will be then displayed in any list view or display form. There is no need to modify the views with SharePoint Designer, it just works.
The Indicator column allows you to create KPIs by specifying data ranges and assigning a different icon to each range. For example, tasks due in the next 2 days will have a red icon, in the next week - yellow and beyond that - green.
Make your lists more appealling using the new icon collection!
Add your comment
Comments are not designed to replace support calls. If you have a specific issue with one of our products, please send an email to
support@infowisesolutions.com
to open a support ticket.
Build powerful business applications in SharePoint using only your browser.
100% No-Code Solution
It's never been easier, to create, innovate and share, all you need is your web browser!
Cost-effective
Address business process pain points immediately. Save time and money.
Fantastic Support Team
Facing difficulties installing the application? Contact our fantastic support team.
Related Topics