Business process solutions for banking services with multi-tabbed forms and multiple approvals using Infowise
Hi there, this is Debolina again. I am back documenting my journey as a new user of Infowise Ultimate Forms.
It's almost a decade I have been working with SharePoint across various industries, especially banking. Today I would like to discuss a solution that we used to capture details about Vendors or Outsourcing Providers (osp). It was a solution based on a huge form with multiple tabs and sections and a large number of attachments. It also had various levels of approvals.
Looking back, I think my life would be so much easier if I had Infowise Ultimate Forms.
Before I started (Existing Scenario):
As a bank, one of the most critical concerns is data. With a huge amount of personal information about all the enormous customer base, one thing a bank cannot afford is compromised data privacy or data loss.
However, the entire banking industry is changing. Going digital is the key. With so many apps and internet banking, banks can't build everything. Generally, they would get different vendors or outsourcing providers (sp) to look after the different types of applications they make. These vendors would have access to the internal system, and thus, before onboarding a service provider, it is essential to capture all the details about the company.
Before we started, for each vendor, the bank will store all the details about their company, with all the documents required for validation. Once the file is created, the file will then be sent to three different managers for approval. Once approved it will be evaluated by the governance team before the vendor or the service provider is onboarded. These documents were also submitted to the relevant government offices. As a bank in Singapore, it came under the Monitory Authority of Singapore, and it was necessary to submit documents that comply with the standards defined.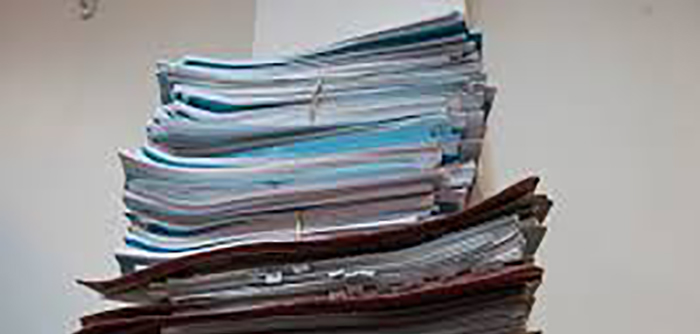 Every month, invoices and other relevant documents would be added to their files. Sometimes, a bad review or good review would also be added to the file.
As you can imagine, that would be a huge number of documents in a file for even a single vendor. Moreover, with the innumerable number of departments in a bank, like credit and loans, customer service, etc., it was not only difficult to add vendor information. It was also very difficult to edit and update in case some of the vendor details got changed.
It also made auditing of records very difficult.
The Solution:
When we started the project, we faced the challenge of creating forms that were easy to use and had all the possible details of the vendors with attachments. We came up with a mockup as below with multiple tabs and sections to help easy the input of data.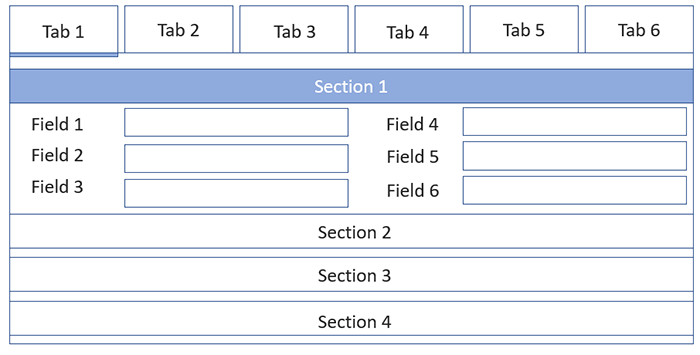 I used SharePoint On-Premises 2013 and created the solution using Dot Net and jQuery. I designed the form and added the client-side libraries to create custom tabs and accordions. Then I mapped each field to the list and used SharePoint libraries to connect with the Lists of data. We also added options to add attachments that would get saved in the SharePoint Lists.
Furthermore, I used SharePoint Designer to add custom workflows and email notifications.
Our solution was a success, and we release the application one month before the delivery date. Moreover, our department was the first one in the bank to earn an ISO 9000:2015 accreditation, and this SharePoint based solution played a considerable role in the ISO certification process.
The application took almost one month to get completed with a waterfall development model. We went through a cycle of requirement gathering, development and testing.
However, I think if I had a solution like Infowise Ultimate Forms, things would have been so much easier. With a large number of stakeholders, it would be easy to develop forms based solutions using Infowise forms and agile methodology.
Guess how much time it took me to create the form below? 15 min. It's that easy. I created tabs, sections and added fields and attachment fields. I also tested my way on different screen sizes. I can add alerts, processes, permissions and even custom CSS without even using any other tool.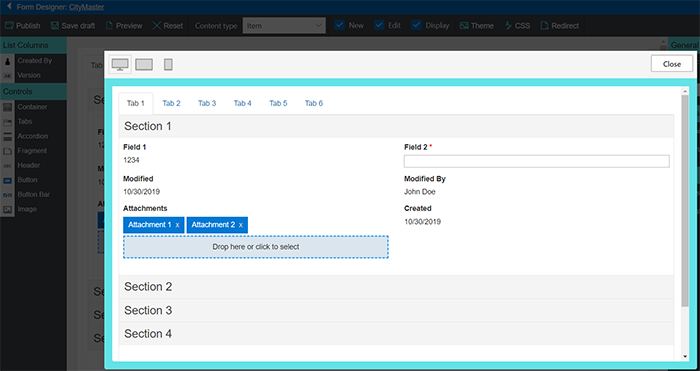 Also, don't forget to check the template manager. Infowise ultimate forms come well equipped with some predefined template-based solutions. It helps you to add predefines business processes to your tenant. It might be that the solution that you are trying to create already exists!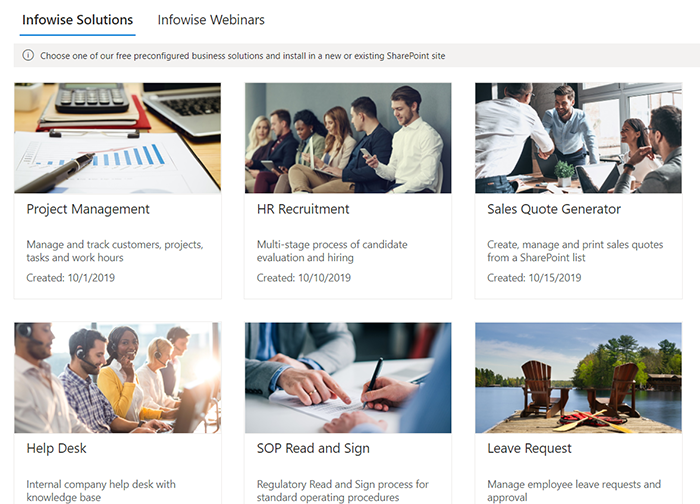 Have fun exploring. I will be back again with more scenarios where we can use Infowise Forms as I keep trying it out.


Infowise
At Infowise, we serve as a strategic partner, assisting public and private enterprises in their digital transformation endeavours with our scalable, smart and robust tools, software and applications. Our product Infowise UltimateForms Power Suite contains more than 15 standalone SharePoint applications developed to give you the power to innovate, automate and scale up your processes. Our products have been designed for optimum interoperability and seamless integration within SharePoint. Altogether, they constitute the structural foundation for digitization and facilitate your transition to digital transformation.
Click here to download Infowise ULTIMATEforms 30-days free trial. Simple process. After you've installed Infowise UF, go ahead and create an unlimited number of Business Process Applications. Or even better, do you want to start with a ready template? Great, click here and download the ready-to-use template from our vast business process solution library, re-purpose to service your needs.
Add your comment
Comments are not designed to replace support calls. If you have a specific issue with one of our products, please send an email to
support@infowisesolutions.com
to open a support ticket.
Ultimate

Forms
Build powerful business applications in SharePoint using only your browser.

100% No-Code Solution
It's never been easier, to create, innovate and share, all you need is your web browser!

Cost-effective
Address business process pain points immediately. Save time and money.

Fantastic Support Team
Facing difficulties installing the application? Contact our fantastic support team.
Related Topics