Ultimate Forms just got a fresh new look!
Hi,
We've got a treat for you! We are updating the visual design of Ultimate Forms and have just deployed the new look and feel of our Design page in Office 365 (update for on-premises version is coming soon)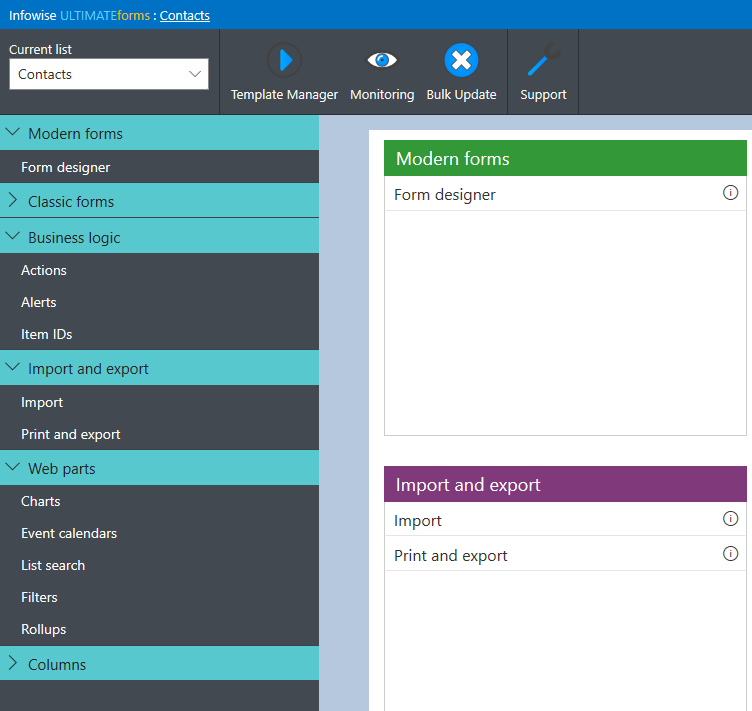 With this new interface it will be easier, faster and more intuitive to customize your SharePoint. It brings everything you need right to your fingertips, making much better use of the screen real estate and providing a more prominent position for some of the additional features that were somewhat hidden before.
For those of you who have used our Form Designer, it will look a bit similar. We are using the same basic layout and a similar color scheme. But there are many differences of course. Let's start from the top:
Template Manager, Monitoring and Bulk Update mode are now prominently place on the top tool bar. In the previous version they were under the gear icon in the top right corner, some users probably didn't even know they existed :)
Support is now also at the top. The support page now provides quick access to all our training and knowledge resources, as well as means of creating and monitoring support tickets.
Left-side menu provides quick access to all the features of Ultimate Forms. Note that the actual settings pages have not been visually upgraded yet, but once they are, they will also contain the same left-side menu with a clear indication of what page you're currently on. You can expand and collapse section according to your usage pattern and we will remember the state of each section for you!
On the right-hand side you will see context-sensitive documenation and tutorials, to make it easy for you to educate yourself regarding the component you're currently working with.
In the center is your main working area. By default it shows links to specific settings pages and serves as an app launcher of sorts. Specific settings will be display when you select one of the options from the top tool bar and, in the future, one of the settings pages of the components.
Above the working area you will see various errors and notifications. For example, you will see the invitation for our next workshop and you will be able to sign up directly from there.
I hope you will enjoy the new look and it will help you become even more productive!
Add your comment
Comments are not designed to replace support calls. If you have a specific issue with one of our products, please send an email to
support@infowisesolutions.com
to open a support ticket.
Ultimate

Forms
Build powerful business applications in SharePoint using only your browser.

100% No-Code Solution
It's never been easier, to create, innovate and share, all you need is your web browser!

Cost-effective
Address business process pain points immediately. Save time and money.

Fantastic Support Team
Facing difficulties installing the application? Contact our fantastic support team.
Related Topics