Support for Azure AD groups in forms
Hi,
Great news! We've added support for Azure AD groups in forms created through our brand-new Form Designer! This is the first time in the app version that we are offering support not only for rules based on individual users and SharePoint groups, but also AD groups, both directly and nested within other AD and SharePoint groups. It gives you the ability to leverage your existing AD groups, simplifying your user management tasks.
Form Designer offer multiple dynamic rule types that can be assigned directly to column and even other controls, such as containers, tabs, fragments, etc.
Permissions - you can set a column (or a groups of columns in a container) to be in read/write or read-only mode or to be completely hidden.
Validations - you can configure custom validation rules, testing column values based on patterns, comparing to specific values or other column values or checking the value length.
Rules - you can set field values based on parameters, other field values, calculations and function results.
Styles - you can dynamically set CSS styles to any columns or controls.
All of these rules can be conditionally applied, based on the current user's identity and/or conditions. You can check if the current user in a specific group (that's where the new feature comes in, you can now use AD groups, not just SharePoint groups and specific users), you can also check if the user is specified in a Person or Group column (directly or through a group) or indirectly, through a lookup item in another list. All of these features help you create fantastic looking, smart, dynamic forms without a single line of code.
The new feature requires you to download and install Ultimate Forms Extensions version 1.1.3.0 and up (upgrade if you have an older version). To install or upgrade:
Download .sppkg file here
Upload file to Enterprise Catalog. There is no need to remove your old version, the new version will overwrite the old one.
On each site, where plan to use it:

If it's not yet installed, install it through Add an app option of the gear menu
If already installed, go to Site Contents, click on Details of the apps (in the context menu), then click on Get It for the new version.
The new version requests the permission to use Microsoft Graph API to read your directory information (that's how it knows what groups the current user is a member of). When you upload the .sppkg file to the catalog, it displays a trust request: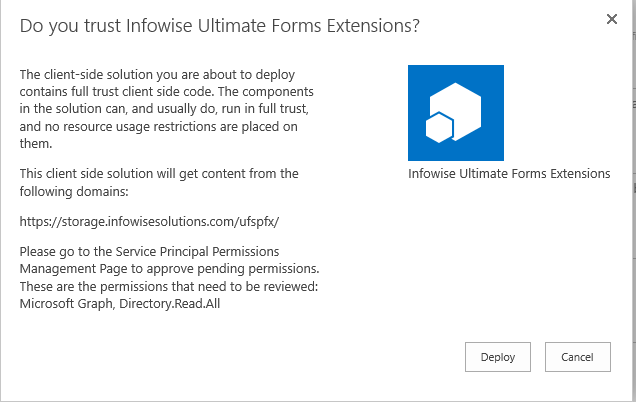 Pay attention to the last sentence in the request. Note that the app cannot request the permission to use Microsoft Graph directly, it can only request it, but an administrator has to approve this pending request.
Click on the waffle menu in the top left corner, then click on the Admin app
Under Admin centers in the left menu, click on SharePoint
If you are still using the classic admin center, switch to the Modern preview. There is no option to approve the request in the classic UI.
On the left menu click on API management under Advanced


Here you should be able to see the pending approval request for Microsoft Graph. Approve it, giving the app the ability to read your directory data.
That's it, now you are able to use Azure AD groups in your rules: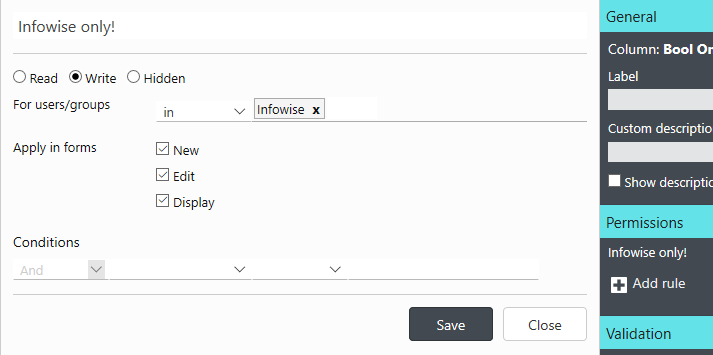 Here I added a permission rule for a column, allowing editing only for users in AD group Infowise.
NOTE: this functionality is not available in classic forms. This functionality will be added to on-prem version in the next release.
Add your comment
Comments are not designed to replace support calls. If you have a specific issue with one of our products, please send an email to
support@infowisesolutions.com
to open a support ticket.
Ultimate

Forms
Build powerful business applications in SharePoint using only your browser.

100% No-Code Solution
It's never been easier, to create, innovate and share, all you need is your web browser!

Cost-effective
Address business process pain points immediately. Save time and money.

Fantastic Support Team
Facing difficulties installing the application? Contact our fantastic support team.
Related Topics