Simple and Robust Infowise UltimateForms CRM
(Written by Robert Cathlina)
CRM systems handle a number of different functions within an organization. Some of the most important functions of a CRM are: Contact Management, Activity History, Task Assignment, Templates for ease of use and Sales Pipeline Management and Dashboard Reporting on these features.
Off the shelf CRM tools such as a Salesforce can be extremely expensive and require constant maintenance. Infowise UltimateForms offers many of these services out of the box so you can save time and money.
Contact Management in SharePoint can be as simple as adding the Contact content type to a list.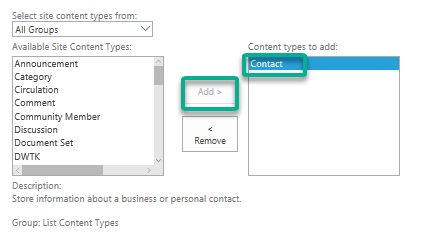 The Contact content type comes out of the box with many fields to help us keep track of our Customers such as: Name, Job Title, Company name and Business Phone. The more information we can capture about our Customer the better!
Sure, keeping details about Customers is useful, but just housing information is not a CRM system's main function. One critical component of any CRM system is Activity History. It is imperative that at any time our users can check to see the last action taken and the current Status of any Customer. We can successfully implement an Activity History Tracking System by adding a Status and a History column and combining it with an Infowise UltimateForms Action that logs any changes when the Status column changes.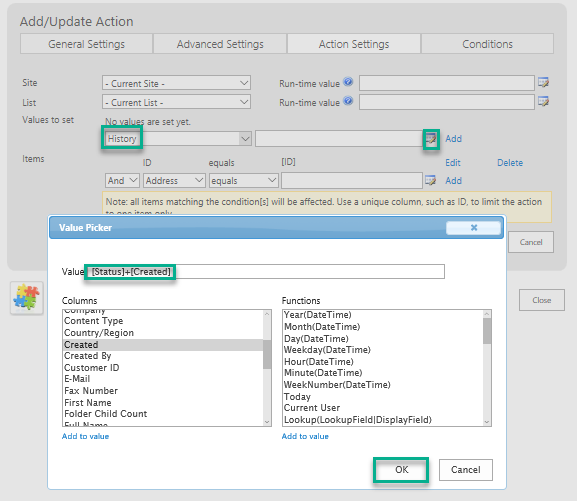 The History column can be used to keep track of changes made to the Status column with a simple Action.

If we set the column to append changes, we have a complete History of all changes made to our Status column on a per record basis.
Another main function of a CRM system is that it helps to move Customers through the Sales Pipeline and one major way they accomplish this feat is through Task Assignment. By utilizing the Infowise UltimateForms Associated Tasks feature we can create a child relationship and thus keep track of tasks specific to each Customer. We can utilize the Associated Tasks features to remind and enable our sales team to continue pushing Customer through the Sales Pipeline.

We can even utilize some additional features in the Infowise Suite to have tasks auto-generated.
Another important aspect of any CRM system is the templates it provides for Customer interactions. Templates for ease of use mean that your team isn't having to recreate the wheel with every new engagement.
The Infowise UltimateForms Associated Document content type makes templating a no brainer. We can also combine the Infowise Associated Document content type with the Copy item/ document Action to move existing templates into our Associated Document library.
Just add the Infowise Associated Document to your Document Library along with a look column pointing to your Customer list to keep track of which documents belong to each Customer.
Next you need to add the Document Library as an Associated Item. Once this is done you can see we have created a child relationship and can store templates associated with our Customers in a separate Document Library. We can also combine the Infowise Associated Document with the Copy item/ document Action to add existing templates to our new library.

CRM systems work to bring all these features together, but one of the most important aspects of any CRM system is that it provides transparency into the sales process.
We can utilize Infowise Smart Chart Pro features to Sales Pipeline Management and Dashboard Reporting over and above what you would get out of the box with SharePoint.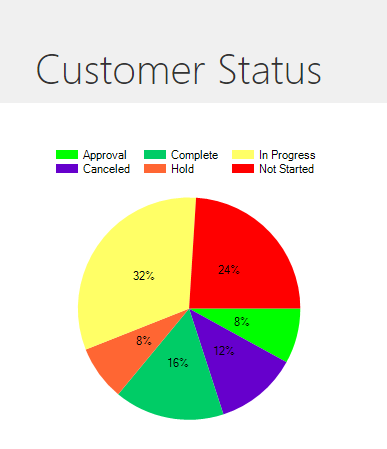 Infowise Smart Chart Pro allows us to choose from over 30 different graph types, build 3D graphs, include a legend and other things such as show values or percentages for our underlying records.
CRM systems are a critical part of any Sales team. Luckily, Infowise UltimateForms for SharePoint gives us features that can easily replace larger and harder to manage CRM systems to drive sales forward. In this article we built a simple, but robust CRM tool using out of the box Infowise features.
Add your comment
Comments are not designed to replace support calls. If you have a specific issue with one of our products, please send an email to
support@infowisesolutions.com
to open a support ticket.
Ultimate

Forms
Build powerful business applications in SharePoint using only your browser.

100% No-Code Solution
It's never been easier, to create, innovate and share, all you need is your web browser!

Cost-effective
Address business process pain points immediately. Save time and money.

Fantastic Support Team
Facing difficulties installing the application? Contact our fantastic support team.
Related Topics