New special alert mode for Today, Tomorrow and This Week
Hi,
As you might already know, Smart Alert Pro (a component of Ultimate Forms) is a replacement for built-in alerts. Its features are too numerous to mention, so I will just list a few highlights:
Complete integration - find a button for it wherever you can add regular alerts
Any recipients, both internal and external
Conditional alerts - add conditions to each alert to only send messages regarding qualifying items
Timer-based alerts - send alerts before or after a certain date (e.g. Due Date of a task), repeat if necessary
Completely customizable email templates
Our newest version includes a new feature, that is supposed to make life easier for you. You can now set an alert to notify you or your recipients about upcoming items/events based on Today, Tomorrow or This Week time periods.
Suppose you are adding an alert on an Events list and want to send a weekly email, listing all the events of the upcoming week.
In What To Send section you will choose According to date and choose your date column, in this case Start Time of the event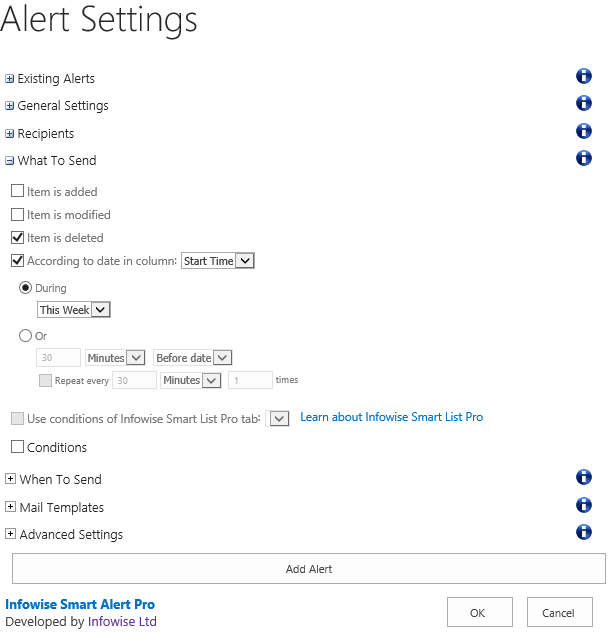 That will collect all events that start this week, so now we need to set up when we want to receive the notification.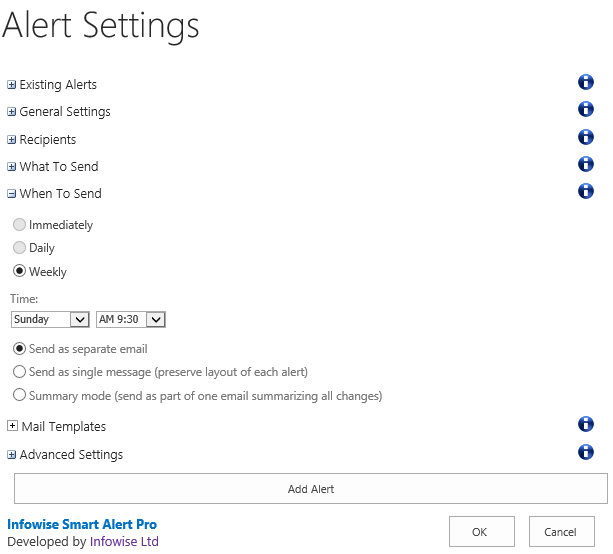 Because it's a weekly summary, we can only choose Weekly, so let's select the week day and hour. Next we can specify how we want the emails to be delivered.
Send as separate email - each event gets its own email, usually not the best option for this kind of an alert, but some might find it useful
Send as single message - all emails are combined into a single one, preserving the layout template of each one (whichever template you chose in Mail Templates section)
Summary mode - a special condensed mode where each item gets just a single line, mail templates are ignored
Save the alert, you will now receive a weekly summary of upcoming events.
Add your comment
Comments are not designed to replace support calls. If you have a specific issue with one of our products, please send an email to
support@infowisesolutions.com
to open a support ticket.
Build powerful business applications in SharePoint using only your browser.
100% No-Code Solution
It's never been easier, to create, innovate and share, all you need is your web browser!
Cost-effective
Address business process pain points immediately. Save time and money.
Fantastic Support Team
Facing difficulties installing the application? Contact our fantastic support team.
Related Topics