6 Reasons to Consider Automation for Your Business Processes
"There's a lot of automation that can happen that isn't a replacement of humans but of mind-numbing behaviour."
– Stewart Butterfield, Co-Founder of Flickr and Slack.
Today's market has become highly competitive; within a blink of an eye, you can be left behind in the dust if you're unable to compete with rival businesses. Your business' services have to be top-notch, all the while keeping the operational costs to a minimum and manage time efficiently.
Business process automation can help businesses to stay ahead of the curve. Even small companies can automate their business, as business automation is not limited to installing AI-based machinery. Automation comes in all sizes and shapes; you can install automation software to manage your social media accounts more efficiently.
To better understand the reasons why a business should consider process automation, we first need to understand what business automation is.
Business Process Automation
Process automation in business is the use of software to coordinate personnel and operations. In simpler terms, business automation (or business process automation) allows you to do all the repetitive tasks with the help of a computer or a virtual system. If you're on the fence about integrating process automation in your business, then these reasons are going to help you decide;
Saves Time
You might've heard the phrase "time is money." Repetitive tasks kill the morale of employees, making the process more time consuming and forcing the employees to work overtime. An automated system can perform those repetitive tasks within the designated time and reduce human error as well, freeing employees to do the work that requires their attention more.
Cost-Effective
If a plethora of tasks is to be performed by your business, then you may recruit a large number of employees, enough to perform the tasks at hand and meet the deadlines of the busy workload. Some consider outsourcing the work, but that's not the best solution to this problem. Process automation can help you save a substantial amount of money and efficiently handle the tasks. Moreover, you don't have to cover the salaries and benefits of an automated system, allowing you to spend those savings elsewhere.
Customer Satisfaction
Customer satisfaction is critical to upscale your business. Manual processing can be irregular and prone to human error; on the other hand, automated systems can help minimize the error rate and provide regularity in services or products, ensuring customer satisfaction.
For example: If a small scale business doesn't have the resources to run a 24-hour call center, they can avail the services of an automated customer service software, which allows them to assist customers 24/7 without any additional costs. The customer won't have to wait to get connected to an agent and will be satisfied with the quality of your customer service.
Better Analysis
Analyzing customer behaviour can help you understand what your customers want. With the help of analytics software such as Google Analytics and Microsoft PowerBI, you can effectively understand your customers' needs and launch new services according to the results. These programs help you manage your data conveniently and provide visualization tools to simplify the process for their users.
Enhances Workflow
Workflow automation allows you to monitor real-time progress by bringing all aspects of the workflow into a single dashboard and simplifies process management for you by creating reviews, processing data, etc. You can also view previously collected data and compare it with the current data so you can make educated decisions and predict the future course of action of your business.
Happier Workforce
Repetitive tasks can be annoying and cause frustration among workers, making the employees less productive. With the help of automation, you can keep your employees happy and increase productivity by 12%, a recent study has found.
Conclusion
Manual processing has room for delays and errors; with the help of automated business processing, you can increase the operational productivity by assigning repetitive tasks to a computerized system. You can pinpoint the area where your company is lacking and work on it to improve your services.
Start small when you automate your business processes, with the most straightforward methods first. Note how the workers react to the automation; this will make it easier for you to take on larger automation projects.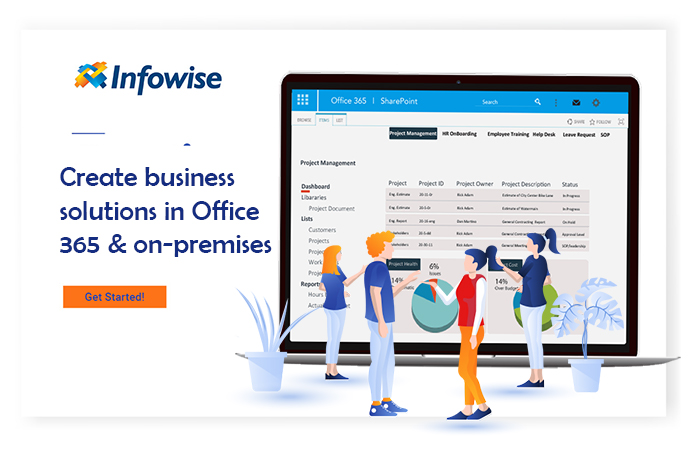 Infowise

At Infowise, we serve as a strategic partner, assisting public and private enterprises in their digital transformation endeavours with our scalable, smart, and robust tools, software, and applications. Our flagship product Infowise UltimateForms Power Suite contains more than 15 standalone SharePoint applications developed to give you the power to innovate, automate, and scale up your processes. Our products have been designed for optimum interoperability and seamless integration within SharePoint. Altogether, they constitute the structural foundation for digitization and facilitate your transition to digital transformation.
Click here to download Infowise ULTIMATEforms 30-days free trial. Simple process. After you've installed Infowise UF, go ahead and create an unlimited number of Business Process Applications. Or even better, do you want to start with a ready template? Great, click here and download the ready-to-use template from our vast business process solution library, re-purpose to service your needs.
Add your comment
Comments are not designed to replace support calls. If you have a specific issue with one of our products, please send an email to
support@infowisesolutions.com
to open a support ticket.
Ultimate

Forms
Build powerful business applications in SharePoint using only your browser.

100% No-Code Solution
It's never been easier, to create, innovate and share, all you need is your web browser!

Cost-effective
Address business process pain points immediately. Save time and money.

Fantastic Support Team
Facing difficulties installing the application? Contact our fantastic support team.
Related Topics